AVID Soccer 2008 Uniform Kit Shoot-Out
This year, AVID Soccer took a different approach to uniform kit. Instead of comparing very different styles and price points, we selected two direct to league/team manufacturers and will compare style, selection, comfort, durability, and value. Our competitors: Protime Sports and Century Soccer.
Although we have only tested a sample of each manufacturer's offerings, we have a good idea of quality and construction. We will use their entire catalog for the style section, but we will also focus on our favorite offerings. Both Protime and Century offer a variety of colors and styles. In any given style, Protime offers more colors. If the goal is to outfit an entire league division, supporting 20+ teams with unique color combinations is a true asset - point Protime. Century offers more styles with more than 16 compared to 9 from Protime (includes one girls only kit). If you are outfitting multiple divisions, nine is probably enough, but 16 is better - point Century. Our final criteria was a head to head style comparison of our favorites. For Protime, our testers selected the Tulsa. It is a subtle but unique combination of colors that gives plenty of room for a logo, name and number. The combination of fabrics also adds both practical and aesthetic appeal. The testers selected the Century Lotus. The home stripes and away pinstripe are a very unique look. Between the two, the Lotus has much more style and panache. It is truly original and attractive. Point and game to Century for style and selection.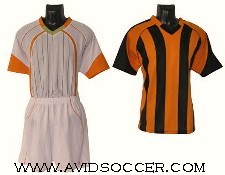 Once the players hit the pitch, comfort and durability are paramount. Protime Sports uses a combination of fabrics, but the base is a polyester wicking material that breaths well. Combine that with mesh panels to increase airflow and the Protime jersey's are all day comfortable. The Century kits are offered in a variety of main fabric designs. In general, they are very soft and the elastic varieties allow for a tighter fit with plenty of movement; however, they do not breath well - point Protime.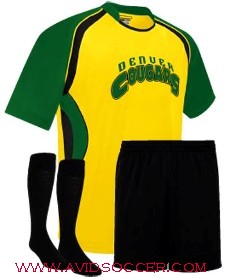 Both of these companies target the same audience, so we will not compare them to other brands. Century uses three main fabrics: pinstripe, solid knit and woven. The pinstripe and solid knit are thin and snagged easier than we expected. The woven polyester is heavier and held up well. Protime uses a similar woven fabric as the main body of all of their kits. The construction of the Protime kit also has fewer well placed seems. We found no shrinkage or visible wear after repeated maintenance cycles in either brand. Over all, the quality of construction and materials goes to Protime - Point and game to Protime.
The final objective criteria for our shoot-out is value. Protime kits are well priced at the retail level with discounts available for quantity purchases. Unfortunately were were unable to get pricing from Century - point and game to Protime by default.
Finally, we asked our testers to review the catalog and give us a final "if you had to buy something for an entire league, which catalog would you use" type of vote. The results were split. Protime won votes on quality and color choice. Century won voters concerned with home/away combinations. About half of the Century kits are standard with two jersey's (home/away) and one pair of shorts. Protime has very few home/away combinations. In the end, Protime carries the category with a strong recommendation for the future: Include home/away combinations for the three most common colors - Red/White; Black/White; Blue/White in each style.
All this leads us to the inevitable conclusion, unless Century produces a price list that substantially undercuts Protime, the winner is obvious. Protime is a good value, even at the single unit level; the kits are now available directly from Protime or through other retailers; they offer a enough combinations of colors to outfit a large division of teams; and the quality is high enough to wear the uniforms for multiple seasons.
Our winner - Protime.